Southern Resident Orcas need your help *right now*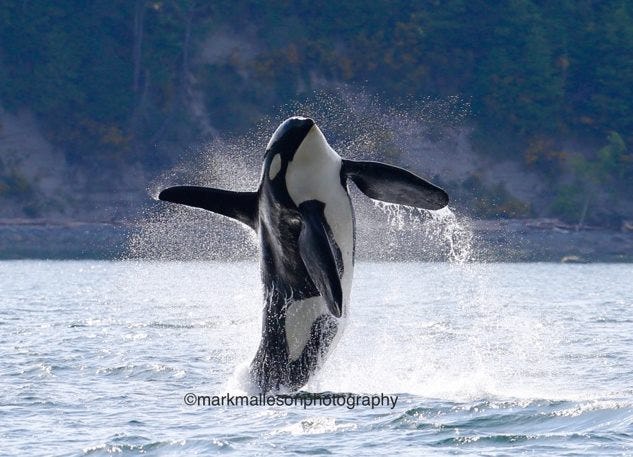 *|SUB:NEWSLETTER_NAME|*
*|SUB:NEWSLETTER_DESCRIPTION|*

If you've received this email as a forward from a friend and like what you see, you can subscribe here. It's free. Feel free to forward further, or to share the web version of this email on Facebook or Twitter.
Hello, *|USER:NAME|* ;

About a quarter of you clicked on links in the last newsletter, meaning a maximum of 25 percent of you took action Monday. That's promising, but I think we can do better. Today's action will take a few minutes of your time, but Southern Resident killer whales are on the verge of extinction, and without us they will likely perish. The situation is critical.
J-34, member of the Southern Resident killer whales' J Pod, dead this week. This brings the Southern Resident population below 80 individuals. Mark Malleson photo
In October I wrote about a crisis facing the federally Endangered Southern Resident orca population, whose members are starving to death for lack of their main food, Chinook salmon. We need to make sure the Army Corps of Engineers doesn't write off the Chinook and the orcas. Details below.

Another member of the J Pod is gone this week. J-34, also known as "Doublestuf," was found dead off a British Columbia shoreline Tuesday. Expectations are that a necropsy will show that he too succumbed to starvation.

There are many factors threatening Southern Residents, but one of the biggest is the dams that make their salmon prey scarce. For the J Pod, whose members stay mainly in the Salish Sea area in Washington and BC, it's four dams on the lower Snake River that have done the most damage to their food supply, by blocking the Chinook salmon from spawning in their historic habitat and affecting water temperatures downstream as well.

Activists were hoping that President Obama would consider issuing an Executive Order that would start the dam removal process. That hope is waning. There is very little hope that his successor will do anything to help the whales.

That makes it crucial that the Army Corps of Engineers keeps dam removal as an option in its Columbia River System Operations environmental review process.

The Army Corps is going through the scoping process for that environmental review right now. (That's the initial process by which they gauge public sentiment about different aspects of the plan being reviewed.) But activists point out that the Corps already did a full Environmental Impact Statement (EIS) for Columbia River operations in 2002, and that EIS includes a dam breaching option which is still valid.

We can influence the process by using this online scoping comment form to tell the Army Corps of Engineers we want them to:
stick with the 2002 EIS;

if they decide to do a new EIS, make sure it includes removing the dams.
Use your own words, but don't worry about being eloquent: just the basics will work. Specifying that you're talking about removing the Ice Harbor, Lower Monumental, Little Goose, and Lower Granite dams is likely wise.
You can also mention the recent successful removal of two dams on the Elwha River on the Olympic Peninsula as proof that the salmon will come back to the lower Snake River once those four dams are gone.

The deadline for scoping comments is January 17. But let's not put this off.

This EIS may be the Southern Resident J pod's last chance. Comment today.

Next up: something that — unlike this newsletter and the last one — doesn't involve Pacific salmon. Probably.

Usual logistical things:
There's a Facebook group that corresponds with this email newsletter. Feel free to join. The group will be a good place to share alerts and action ideas for potential inclusion in this newsletter. If you're one of the sensible people who doesn't do Facebook, you can always contact me by just replying to this email.

​This email newsletter doesn't cost much to put out right now, but if you want to help defray some of those small expenses (which we hope will grow as more people subscribe) you can drop a few bucks into my PayPal account here. Thanks.
It is horrifying that we have to fight our own government to save the environment.
– Ansel Adams
Look for more news and action opportunities on Friday. This newsletter's format may change as we get our feet under us: your suggestions for fine-tuning are welcome. Opinions expressed here are mine alone and not my employers or anyone else's, though you're certainly welcome to borrow them.

Onward;

Chris