Letter From the Desert: Toloache, la Llorona
The dog and I walked out last night, well past dark. We pointed ourselves east. The stars overhead shone brilliantly, but on the horizon in front of us was an incongruous dark. As we walked that dark horizontal band began to flash. White explosions due east, then northeast, then southeast. Some were muted and blurred; some sharp and outlining layers of cloud.
A thunderstorm then, and distant. I started counting seconds after one bright flash, an old habit. Sound travels at five seconds per mile. The lapse in seconds between lightning and thunder divided by five thus equals whether or not you should start heading home. I stopped counting at 60. I waited another minute, then two. No thunder came. Just the southeast wind off the Gulf, a cry from a barn owl flying westward, and the usual scent of toloache blooming after nightfall on a torrid day.
There is a song I have known my whole life, perhaps oddly given my background. Or perhaps it's to be expected, given my background. It is one of the best-known folk songs of Mexico, one of those exultant minor key deals from the Isthmus of Tehuantepec.
Todos me dicen el negro, Llorona
negro pero cariñoso
Todos me dicen el negro, Llorona
negro pero cariñoso
Yo soy como el chile verde, Llorona;
picante pero sabroso
Yo soy como el chile verde, Llorona;
picante pero sabroso
It's not unusual for the song to play in my head at random times. Tonight it does for two reasons.
First is the concert la mujer que amo and I went to on Saturday; a band specializing in Mexican folk music, and they played La Llorona.
The second is the toloache, its eight-inch white trumpet flowers bowing their heads in the wind off the Sea of Cortez.
No sé que tienen las flores, Llorona,
Las flores de un campo santo
No sé que tienen las flores, Llorona
Las flores de un campo santo
Que cuando las mueve el viento, Llorona
Parece que están llorando
Que cuando las mueve el viento, Llorona
Parece que están llorando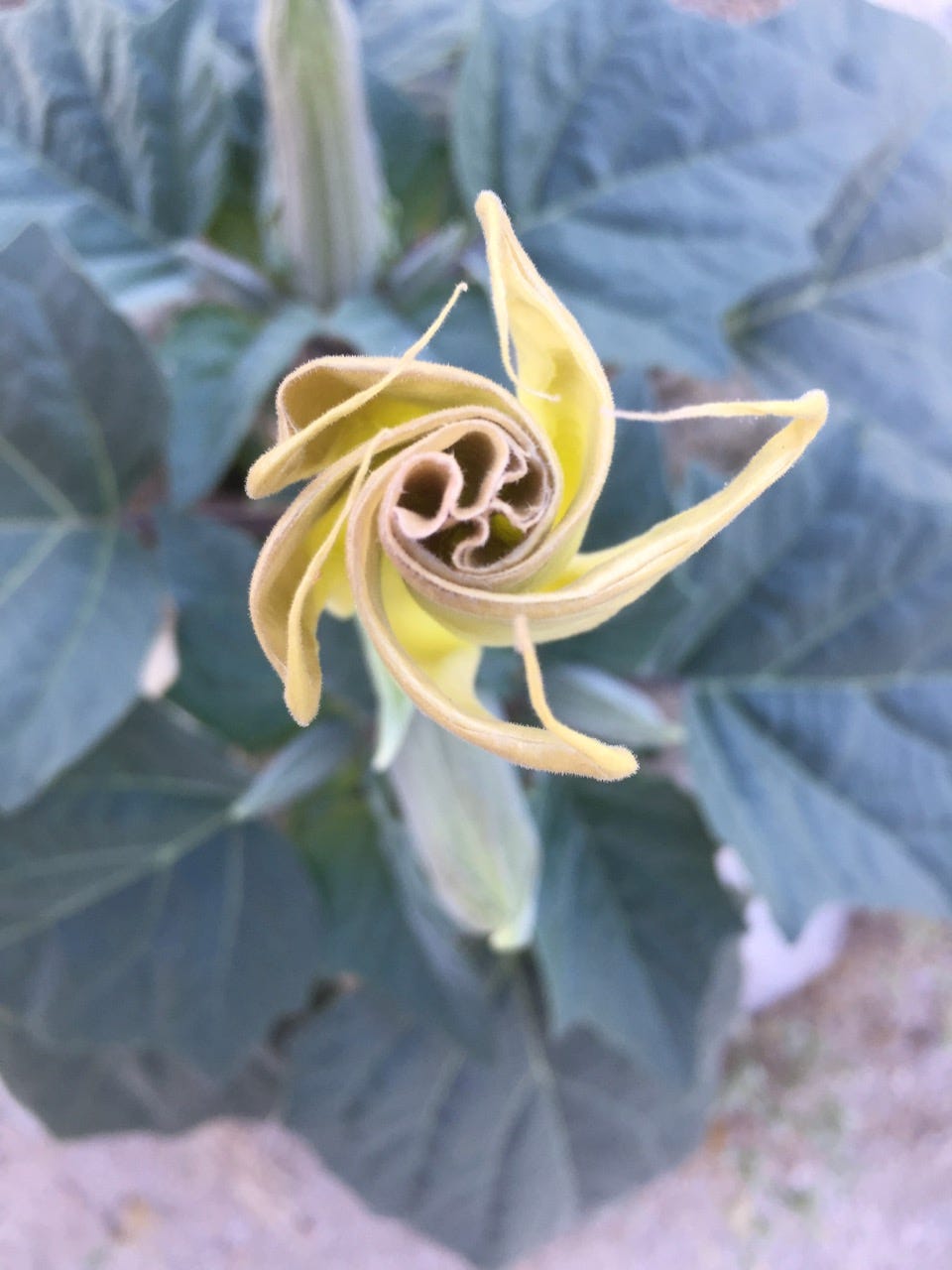 Toloache, known in English as "sacred Datura," among other things, and in Dog Latin as "Datura wrightii," is one of the few herbaceous plants able to bloom here in the depths of summer. Pollinated mainly by the tobacco hawkmoth, Toloache's flowers open at night, reflect all available light with their bright white corollas, and emit a sweet fragrance. Hawkmoths arrive and pollinate the flowers, then lay eggs on the leaves. Their larvae — tobacco hornworms — eat the leaves as they grow. A partnership.
Should you attempt to emulate those hornworms, or should you heed the periodic rumors percolating through the teenaged population of your small rural city, or should you be naïve enough to take the Datura-based writings of Castaneda the Fabulist as non-fiction, you will likely regret it. Or your most dearly beloveds will. All parts of the toloache are poisonous. They contain atropine, scopolamine, hyoscyamine, and other related alkaloids. Consuming toloache can cause hallucinations, euphoria, sexual arousal, delirium, blindness, cardiac arrest, respiratory paralysis, and death. It is unsurprising that the plant is generally considered to possess immense power. Toloache has been used in medicine both traditional and modern. It has been used in religious and cultural ceremonies, rites of passage in which passing away is one possible outcome.
The wind gains strength. Toloache blossoms bob and weave. I decide the storm is across the Colorado, possibly as far east as Wickenburg. It stretches north to south along a startlingly large amount of the horizon. I will later look online and find that not only is my guess correct about Wickenburg, but that in fact the storm stretches from Tucson, east through the Cabeza Prieta and Gila Bend, northward to Kingman. All through that part of the state, washes start flowing. Dry desert tinajas fill with rainwater.
The song "La Llorona" is based on a part of Latin American oral tradition that likely predates the European invasion. According to the legends, the weeping woman (la Llorona) is a supernatural figure, sometimes a ghost and sometimes not, who has been driven to something like madness by the loss of her children. In some versions of the story she herself killed the children in a fit of rage against the betrayal of their father, and she has been condemned to search for their spirits until she finds them, which will never happen. In other versions she has lost her children in a war or a massacre or other such disaster. In whichever case, her grief drives her to capture children in the mistaken notion that they are her own. The prospect of being nabbed by la Llorona has been used for centuries to frighten children into obeying their parents.
I wonder whether a new version of the story will arise in years to come, with a blameless la Llorona who merely chooses the wrong year to migrate north. She only wanted to escape the wars and the violence, to bring her children to a place where they could grow maiz and chiles and play in the grass. But monsters at the border stole her children for themselves.
We have become monsters. We are the Argentinian generals who stole the children of murdered leftists. We are our great-grands who kidnapped the children of the Lakota and the Hopi and the Paiute. This is how we will be remembered. This is how we will live on in stories. Children disobeying their parents will be told "the Americans will come."
And there's this: The old scare-the-children monster stories never mention whether the monsters' bad behavior might not have been quietly deplored by some sectors of the monster community, some of whom even went onto monster Twitter to point out that the bad actors did not represent their views. Really, it's as if such dissenting monsters never really existed at all.
Tonight, I content myself with thinking that one of those mothers might just be pulling her children through a desert dry wash right now. She is in the Cabeza Prieta: the administration's renewed focus on the border at Organ Pipe Cactus National Monument has merely pushed migrants into the harder part of the desert to cross. Earlier in the day she found plastic water jugs that had been placed there by friendly locals, then destroyed and dumped out by la migra. En el plan alternativo, the coyote had told her there was a tinaja here in this low range of hills that sometimes had water in it.
Climbing with her children, who have become so quiet and tractable that it panics her, she finds a thin layer of dry mud at the bottom of the hole. Mierda. There is no hope. Nothing but the shriek of that lechuza, that barn owl, as it flew past just now. She closes her eyes, dead tired. She weeps.
La pena y la que no es pena, Llorona
todo es pena para mí
A drop of water lands on her hand. A tear? No, too cold. Did she imagine it? The thunder answers her. Rain comes. Water begins to trickle down the rock. The wet air brings the sweet scent of toloache to her as she watches the tinaja fill.
It is not enough. It is never enough. But it is something.