Letter From The Desert: Time, Dissipation, and Facebook
This week marks four years I've lived in this little house. I guess I really should unpack.

Raven sits atop a chimney, making odd strangled noises in the rain. Is it misery? Or joy? Hard to tell. It's cold at the beginning of May. This is the rain that hits every year about this time, and every year we call it "unseasonable."

Ocotillo leaves inhale deep, flex and reflex with each raindrop. The dog is reluctant to stir from her nest of blankets.

And then the sun gives us a taste of what it has in store for us over the next weeks, and the mercury strains toward 105°. The dog walks from creosote to shady creosote, east side of the road in the morning, west side later in the day.

It's four years this week since I moved into this little house in the desert. Such a short time. I stand by the cold fireplace, raven calls echoing off the chimney walls.

Four years, though it took me a good six months to begin to settle in, to sever a few unhealthy ties to Los Angeles and focus myself, to reacquaint myself with myself. I spent some time inviting people over that first summer, newly single and seeking conviviality.

"Yes, that's a good Idea," I answer the raven on the chimney. "I should do that again."

I do not lack for company, to be clear, though there are times I need to remind myself of that, mainly in the first few days after la mujer que amo returns to her home 500 miles from mine. I have the dog here; she is the best of company. I have the raven quorking malcontented joy down the flue. I have cottontails and desert iguanas and Gambel's quail. Cottontails peer into the front window to see what the dog is up to. They have grown trusting of the integrity of her leash: they will run from her only so far and no further.

The black-tailed jackrabbits never dare to peer in at the dog. I see them more often from 20 or 30 yards away, as they spook at our approach and cover the desert distances in lazy bounding parabolas. I find lately I cannot imagine living without black-tailed jackrabbits near at hand. Their improbable appearance surprises me every time I see one, as often as hourly. They resemble some Oligocene ancestor of horses.

The sheep come around far more infrequently. It's been a while since I've seen one on the ridge south of our neighborhood. I did see a respectable ewe a week ago, making her way down a canyon wall between Morongo Valley and Desert Hot Springs, apparently hoping to cross Highway 62 where a tall bridge runs over a canyon.

Four years here, and later this month I pass ten years since I moved to the desert. That was a dramatic change in some ways, but not so much in others; my heart had lived here for about half my life before I loaded that U-haul and drove past California buckeyes in full bloom.

Not a huge span, only a sixth of my time spent on the planet so far, and yet a few layers of gauze have draped themselves over my memories of that life.

I used to feel as though my life in the city was a sort of sleep, a dreamtime in which I walked around and ate things and talked to people and held down a job, but which would evaporate gradually after a few hours in the desert. I would come to myself sitting near a fire, or forty minutes' walk away from my still-cooling truck, and shake off the last few lingering wisps of my urban dreamtime self, fully restored to my real life.

I would not have dared hope ever to have the life I have now, here among the coyotes and the bighorn sheep and the preposterous black-tailed jackrabbits.

Four years in this house, and despite the joke above I've long ago unpacked and settled in, and I've been thinking. Fifty-some years ago Ed Abbey spent seven months living at Arches National Monument and turned those seven months into a book. Erma Fisk spent five months on a Nature Conservancy reserve in Southern Arizona and then published The Peacocks of Baboquivari about that winter vacation. There's a little brown house in the Owens Valley that's quietly revered as the place where Mary Austin wrote Land of Little Rain. She lived there for perhaps 20 months.

I'm feeling a little bit like a slacker here.

Not entirely coincidentally, and speaking of a daily existence that resembles reality from which one awakes only by leaving it and setting up camp in the desert, I'm pulling the plug on my Facebook account in a week. Which means more time to spend reading, hiking, observing things, and writing. Maybe I can begin to catch up with Erma and Ed in the books per month department.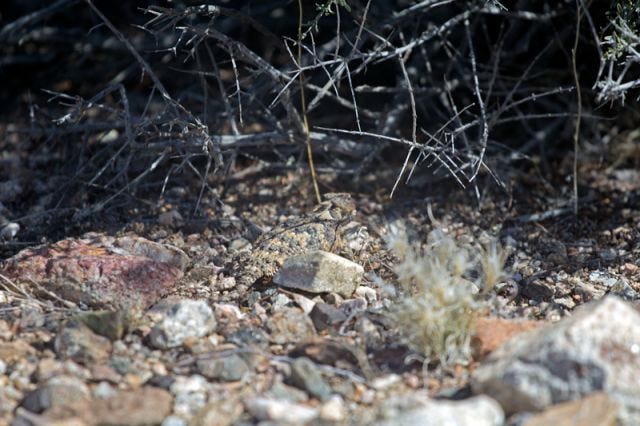 Above: hiding in plain sight, Crescent Peak Road, Searchlight, Nevada.
Elsewhere
Because I'm cutting Facebook loose, I have decided, I'll share a couple interesting and relevant links here from time to time.
From Science: The last time anyone saw the San Quintin kangaroo rat was more than 30 years ago, in the arid scrublands of Baja California in Mexico. Mexican authorities declared the small mammal critically endangered, and possibly extinct, in 1994. So biologists couldn't believe their eyes when not one, but four San Quintin kangaroo rats (Dipodomys gravipes) hopped into their survey traps in 2017.

On Medium, the Mojave Desert Land Trust, NPS and UC Riverside do citizen science to examine the effects climate change may be having on Joshua trees.
​That's it for now. More soon. Thanks for reading, and I do read your replies, even if I cannot always respond to all of them.

- Chris
All content Copyright 2018 Chris Clarke, all rights reserved. Please feel free to share via forwarding, but don't spam anyone. If you like what you see you can subscribe here.