Letter From the Desert: Lying about Joshua Trees
Local politicians love Joshua trees except when the trees might get slightly in the way of making money.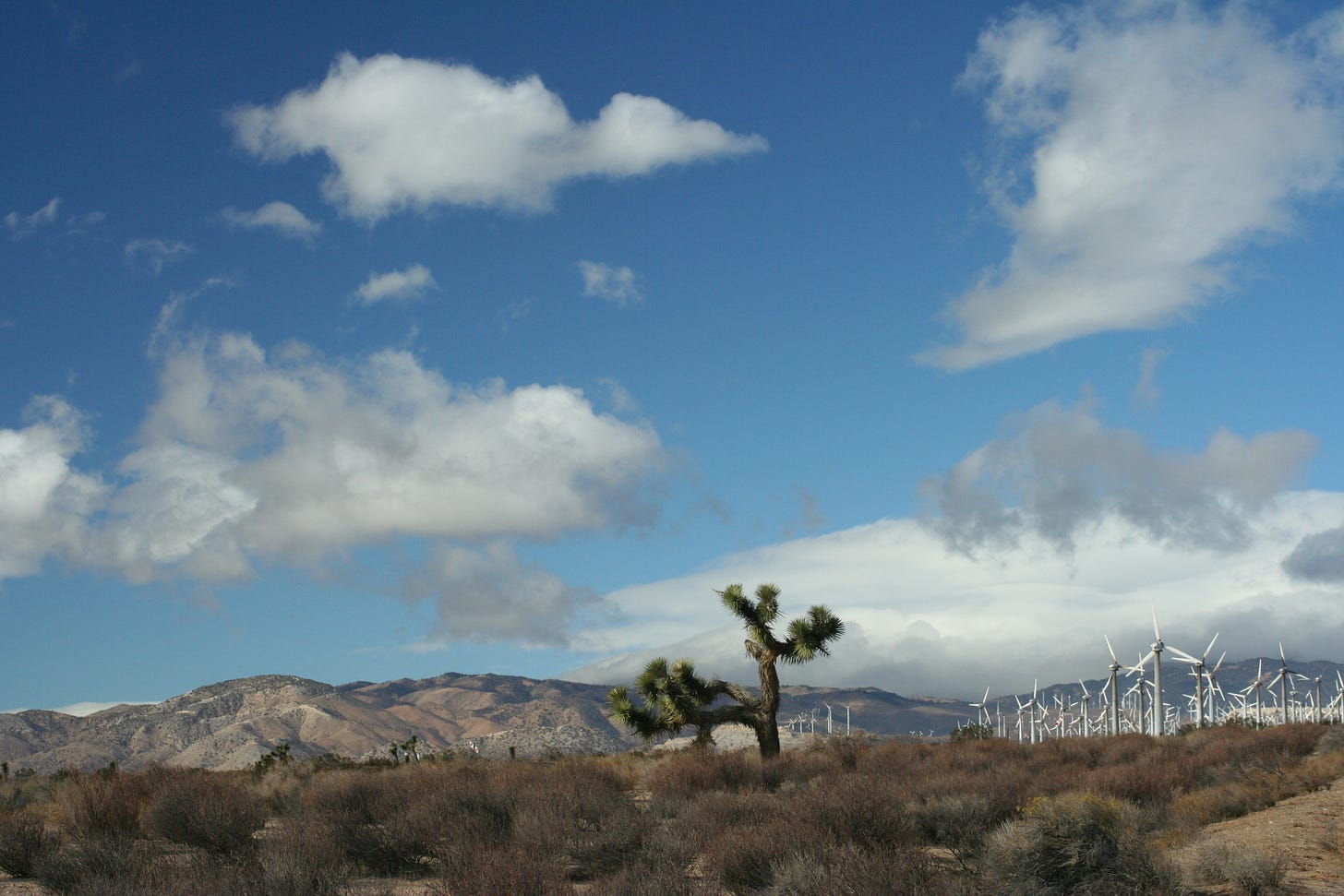 Energy development is just one of the threats to Joshua trees. Yucca Valley officials are another.
More than a few people have forwarded me recent complaints by elected representatives that urge their constituents to oppose protecting Joshua trees. They generally ask what I make of the objections.
What I make of the objections is that they are roundly misleading, ill-informed, and distressingly venal. They come from people whose main interest in the desert is extracting money from it. Look at a list of prominent politicians in San Bernardino County who have called for prematurely reopening the economy at the risk of increased death from Covid-19, and then look at a list of those who publicly oppose having the state list Joshua trees as a threatened species, and you will find commonality there.
One could conclude, were one more than a little soured on political establishment denizens, that both Joshua trees and voters are only valuable to them until protecting our existence might cost some money, at which point we and the trees become expendable.
I wrote about the attempt to list Joshua trees as recently as last October, which seems a hundred years ago. If you want context, it's in that Letter From the Desert. The short version for those disinclined to click: after the Federal government declined to give Joshua trees protection under the US Endangered Species Act, the Center for Biological Diversity petitioned the state of California to list the western Joshua tree, increasingly considered a distinct species, as threatened under the state's stronger version of the federal law. That petition is making its way through the process, and the California Fish and Game Commission is likely to decide whether or not to do a full appraisal in a meeting in August.
In response to that looming deadline, a groundswell of public opinion opposed to the listing has swept the desert. Just kidding. That groundswell consists of two San Bernardino County Supervisors, the town council of Yucca Valley, and two representatives of the Yucca Valley real estate industry.
How Yucca Valley protects its Joshua trees. Vetatur Fumare photo
This is the same town of Yucca Valley, by the way, that signed off, five years ago, on a new development whose contractors scraped about 350 Joshua trees off the building site with a front-end loader. When neighbors complained about the impending death of all those Joshua trees, the developer piously claimed that all the trees would be transplanted. Those in the know understand that transplanted Joshua trees larger than a Stetson hat essentially survive the process only long enough for people to forget that they were upset. Ten-year survival post-transplantation occurs approximately never, unless the person doing the transplanting arranges for the tree to be dug out by a very large tree spader, and even then it's touch and go.
Interesting thing about that development: a local church, Joshua Springs Calvary Chapel, is an investor in the company. At least three of the five members of the Yucca Valley Town Council have close ties to Joshua Springs, including two who have recently made public statements that Yucca Valley takes good care of its Joshua trees and that no further protection for them is therefore needed.
I am reasonably certain that such public statements break a Commandment or two. Joshua Springs is probably counting on there being a post-Rapture paperwork backlog that allows church members with a record of bearing false witness against Joshua trees to skate past the gate.
The artificially inflated concern about the tree's likely listing has provoked local Assembly Member Chad Mayes, a Republican, to advance a bill that would rewrite the California Endangered Species Act to reduce local impacts from listing the tree, including allowing completion of a local sewer project. The badly written bill is unnecessary, given that the Yucca Valley sewer project could easily obtain an incidental take permit for the trees if listing proceeds. It also weakens protection for non-target species like mountain lions and Chinook salmon, and it also has no chance of becoming law, in that it would need a two-thirds majority to pass in a Legislature controlled by Democrats. It's likely that the only reason Mayes created the bill in the first place was to bolster his conservative cred with Yucca Valley's political class. He's seen his support on the right wither a bit since he took the position a couple years ago that climate change is happening due to human activity. Climate change denial runs rampant in desert conservatives, and in fact has reared its misinformed head in the debate over listing Joshua trees.. Advancing a destructive bill based on untruths that would harm a defenseless species in the unlikely event that it passes would be just the ticket for swaying the Joshua Springs crowd back to your side.
Of course, we need to make sure it doesn't pass. If you live in California, contact your elected representatives and tell them to oppose AB 235.
But back to the original line of propaganda from opponents of listing. Some of the things the anti-Joshua tree crowd are saying are so easily refuted that one wonders why they're being said in the first place. Like, for instance, the above notion that no protection is needed because Yucca Valley takes good care of its Joshua trees. Aside from being the kind of obvious untruth that makes Jesus cry, it's also beside the point. There is a whole lot of California desert that is not Yucca Valley. According to the US Fish and Wildlife Service, the portion of the California desert that holds just the southern population of western Joshua trees spans 3.7 million acres. Yucca Valley makes up slightly more than one thousandth of that. And that's not even counting the northern population, in the Owens Valley and north.
Yucca Valley extinction advocates claim the majority of western Joshua trees are already on federal land and thus protected de facto. In fact, only 48 percent of the southern population of western Joshua trees, the population most at risk, is on federal land. Fifty percent is on private land and thus essentially subject to the whims of property owners. Yucca Valley residents with a conscience who were horrified by the 350 walking dead Joshua trees scraped by that developer would be well advised not to visit private lands in the Antelope Valley where solar development is going in: the bulldozed piles of trees call to mind atrocity photos.
Another thing the anti-listing folks have said is that there are plenty of trees in national park hands like those in Mojave National Preserve. Anyone who says this either hasn't read the petition to list the species, or is counting on you not reading it. The petition counts the Mojave Preserve Joshuas as members of a separate species, the eastern Joshua tree or Yucca jaegeriana, a position adopted by USFWS. Mojave Preserve Joshua trees have nothing to do with the issue at hand.
One last deception or else this will go on all day: opponents of listing claim that listing shouldn't happen because the tree isn't in immediate danger of extinction: it just may reach that point at some future date if expected trends continue. But no one disagrees with this assessment. That "may become endangered at some future date" is the precise definition of a threatened species under the California Endangered Species Act. Opponents are actually conceding that the trees meet the standard for listing as Threatened, but doing so in a way that might generate angry letters to the California Fish and Game Commission opposing listing.
They have the untruths and the money to back them up. In politics these days, this is often a powerful combination. All we have on our side is the truth and an overwhelming popular majority in support of our desire to protect the trees.
But that majority is meaningless if it doesn't, well, do something.
---
---
The California Fish and Game Commission will likely be taking up the issue of whether to start the listing process for Joshua trees at its August 19/20 meeting. You can find information on that meeting, including the agenda when it's posted, here.
Letters in support of listing the western population of Joshua trees received by August 3 will be included in Commissioners' advance meeting packets. Letters delivered after that but before August 14 will be given to Commissioners during the meeting. Here's how to send a comment letter.
Things you can mention in your letter:
There is a consensus among scientists that Joshua trees are threatened by a warming desert climate, and that much of the species' range may become uninhabitable within the next 100 years.

The trees also face threats from wildfire fueled by invasive grasses, habitat loss to development, and vandalism.

While Joshua trees in protected areas are afforded some measure of protection against habitat loss, they are still vulnerable to climate change, fire, and vandalism.

Urge the Fish and Game Commission to start the process to list the western Joshua tree as Threatened.
Once you've sent your letter, let me know. Feel free to cc me, in fact. It helps to know that you're as offended by the deliberate spreading of untruth in the service of soulless suburbs as I am.
---
All content Copyright 2020 Chris Clarke, all rights reserved. Please feel free to share via forwarding, but don't spam anyone. If you like what you see you can subscribe here.