Letter From The Desert: an urgent chance to stop Cadiz
You have a chance this week to make sure Bonanza Spring keeps flowing. But we need you to act now.

Hi all;

It's been a couple weeks since the last LFTD, in part because I've been slammed at work. Here's why.

The tl;dr version: Californians, call your assembly members and state senators ASAP to urge them to support SB 100 (Roth), which would prevent the Cadiz project from happening without independent scientific assessment of its potential to harm the desert. You can find out who your Assembly and State Senate reps are here.

Non-Californians, you can help by taking to social media and urging your Californian friends to call their reps. And anyone can tag important California reps, such as Senate President pro tem Toni Atkins, to make sure they see support for Cadiz is going to be toxic to future electoral aspirations.

Sample Tweet:
Our chance to protect our CA Desert ecosystem from the destructive Cadiz water mining scheme is coming down to the wire. We have just days to get #SB120 passed by the CA legislature. Please tell your representatives to support this important legislation. @SenToniAtkins #stopcadiz

The Details:

Since last year, the California Legislature has been sitting on a bill that would require the preposterous Cadiz project to undergo strict environmental assessment before selling a projected 16 billion gallons -- 50,000 acre-feet -- of fossil water from what is likely the driest place in North America. The project threatens the springs and seeps of both Mojave Trails National Monument and Mojave National Preserve, including Bonanza Spring, the largest water source in a thousand square miles of desert.

Some of you may remember that I wrote about the Cadiz project in a previous Letter From The Desert.

A real, independent scientific review would doom this project. That's why Cadiz has done everything it can to avoid such a review, from arranging a state environmental review done by its largest proposed customer to using an 1875 railroad law to circumvent federal review.

Unsurprisingly, the Trump administration signed off on the railroad gambit, possibly because Cadiz's lawyer David Bernhardt is Deputy Interior Secretary. Trump's support is the only reason Cadiz is still threatening the desert, and it's a major part of his attack on California environmental standards.

Last year, Assembly member Laura Friedman (D-Glendale) introduced AB 1000, which would keep Cadiz from going forward if state agencies concluded the project would harm the desert ecosystem. But Cadiz hired influential lobbyists that persuaded then-Senate pro tem Kevin DeLeon to keep AB 1000 bottled up in committee. This year, there was a chance to spring the bill and get it to the Senate floor for a vote... but Cadiz hired current pro tem Toni Atkins' former chief of staff as a lobbyist and the bill went nowhere.

Now, State Senator Richard Roth has amended one of his bills, SB 120, to include the language from AB 1000 that would protect the desert from Cadiz. We have until Friday, August 30 to get it passed by both the Senate and the Assembly. Governor Jerry Brown will sign it once it reaches his desk.

Cadiz will be throwing buckets of money at lobbyists this week to try to keep SB 120 from passing. We need to counteract that. We need everyone who's concerned about the desert, everyone who's opposed to the Trump administration's attempts to raze our public lands for profit, to raise their voice this week.

So again: please find your Assembly member and state Senator here. Call them at their Sacramento or district offices, or both. Tell them you want the Mojave Desert's National Parks and Monuments protected from the preposterous Cadiz water mining project. Tell them that California needs to stand up to Trump cronyism and alternative facts masquerading as science. Tell them that they must make sure SB 120 passes.

Then spread the word on social media.

And if you feel like doing so, reply to this email message to let me know you've taken action, so we can get a bit of a sense of the comments reaching the Legislature.

Thanks!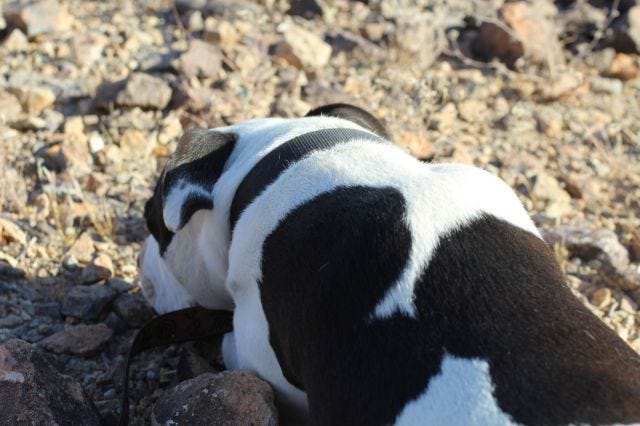 Heart snoozing at Bonanza Spring, April 2017
---

All content Copyright 2018 Chris Clarke, all rights reserved. Please feel free to share via forwarding, but don't spam anyone. If you like what you see you can subscribe. If you really like what you see my tip jar is here.